Open Air for Your Driving Pleasure
by Marc Levinson

• CONVERTIBLES • REMOVABLE PANEL • SUNROOFS •
---
Open air driving is back in style and you can have it any way you like it! Air conditioning is no longer the driving solution which spelled doom for the convertible. They're are back, and other open air options are greater than ever. Car dealers offer many different vehicles with a variety of open air options, but the desired options are not always available on the desired vehicle. Fortunately, consumers have a choice, thanks to the aftermarket sunroof industry.
Not all options on a new car lot are put in at the factory. Many open air options are added when a dealer sends a car or truck out to be accessorized. A dealer may have a sunroof added to almost any vehicle before the sale, and it may be included in the financing. Professional restyling shops can install a sunroof for you anytime.
---
Convertibles are probably the most familiar open air option. A fabric and frame roof structure folds down, leaving the vehicle topless, hence the term rag-top. American manufacturers discontinued the convertible forever in 1976, or at least until Chrysler brought it back in 1981. Since then, Ford, GM, and many others have followed suit. Today, a factory convertible can cost $4,500 more than the hard top version. Not many vehicles are available as factory convertibles, but each year more are offered. Aftermarket conversions are limited, and very expensive.
---
Perhaps it was Burt Reynolds, in the movie "Smokey and the Bandit," who made T-Tops popular in the 1970's. Today, few vehicles are available with this type of sunroof option. T-roofs have two removable glass panels which must be stored when removed. The panels leave a T-shaped structural brace in the roof center, thus name T-roof. Targa roofs, like on today's Corvette, are similar, except they are only one (often opaque) panel and leave no cross brace. Removable panel options are sporty open air options and can cost as much as $1500 as a factory option. There are no longer any aftermarket kits, however, several companies sell replacement and remanufactured panels and accessories.
---

SUNROOFS
Sunroofs are by far the largest selling open air accessory available, in both factory and aftermarket versions. Perhaps this is because they are more universal than Convertibles, T-roofs and Targas. Sunroofs fit many vehicles rather than being custom tailored to each model. By comparison, it far easier, and less costly to get a sunroof.
Sunroofs are available in many varieties of shapes, sizes and styles, and may be manually operated or power driven. Sunroof types can be broken down into five distinct categories:
pop-up • top mounted sliding (topslider) • tilt & slide (spoiler)
internal sliding (moonroof) • folding (rag-top)
Don't be frightened by the poor quality aftermarket sunroofs which once earned a reputation as "leakers" in the mid 1970's. Technology, time and innovation have greatly improved the reliability and enhanced the features of todays sunroofs. In fact, most aftermarket sunroofs come with a better warranty than the vehicle does!
---
Pop-Up Sunroofs
A pop-up sunroof is a manually operated tilting glass panel. These panels are usually removable, and like T-roofs, must be stored when removed. The tilting action provides a vent in the roof, or a full opening when the panel is removed. Pop-ups can be installed in almost any vehicle, and are relatively inexpensive. Retail installed prices range from $249 to $699.
---
Top Mounted Sliding Sunroofs (Topslider)
Top mounted sliding sunroof have been a popular factory option in Europe for many years. The glass panel slides open in tracks on top of the roof, thus there is no loss of headroom. Top mount sliders have been offered in both manual and power operated versions. Most feature an integral wind deflector to eliminate wind noise and add to the European styling. DONMAR pioneered topslider sunroofs on the U.S. market in 1984 with the SKYROOF® Sliding Sunroof. The Toyota Previa minivan had a huge top mount sliders as a factory option for the center sunroof. Aftermarket options are no longer in production, as improvements in spoiler sunroof features have made the styling objection overcome the features and benefit. Several new multi-panel panoramic roof systems use topslider mechanisms, including an aftermarklet model.

---
Tilt-&-Slide Sunroofs (Spoiler)
Mazda's RX-7 was the first car with a factory installed tilt-&-slide sunroof. Today they are common in many new cars. Tilt-&-slide sunroofs combine the features of a pop-up with those of a top mounted sliding sunroof. They tilt to vent, and slide open above the roof, requiring little headroom or roof length. Tilt-&-slide sunroofs don't offer quite as large an opening as other sunroof types, but the convenience of a self storing panel can be a desirable feature. Aftermarket options were once limited to manual crank versions, but today most are power operated, with optional features like integrated sun shades and electronic control modules. Tilt-&-slide sunroofs are ideal for short roof vehicles where other types of sliding sunroofs are cannot be installed. Retail installed prices range from $595 to $895.

---
Internal Sliding Sunroofs (Moonroofs)
Internal sliding sunroofs are usually electric and often factory options in luxury cars and imports. Manual versions of the same sunroofs are found on some European automobiles. Some imports use a painted steel panel, while domestic makers prefer a glass panel, referred to as a moonroof. The panel slides open between the metal roof and interior headliner, requiring some loss of headroom in the process and providing a full opening in the roof. Some models include a tilt up feature for venting. Internal sliding sunroofs cost between $995 and $1600 for factory and aftermarket installations. Internal sliding sunroofs don't fit every vehicle and the price tends to orient them toward the luxury end of the car market.
---
Folding Sunroofs (Rag-Top)
The folding sunroof, another European tradition, offers the convenience of a sunroof with an opening more like a convertible. Folding sunroofs are for people who really want a very large opening to enjoy open air driving. Unlike the other sunroofs, the panel (cover) for the folding sunroof is made of fabric (vinyl), which folds back as it slides open. Once seen as factory options on European imports, folding sunroofs have been spotted on many recent concept vehicles. Aftermarket versions are currently available only in powered versions. Retail installed prices range from $1200 to $1800.
---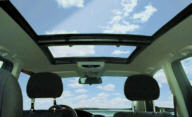 Panoramic Sunroofs (multi-panel, large roof systems)
Panoramic roof systems provide a much larger viewing area than other sunroofs, usually including aperture above both the front and rear seats. They may be fixed or operable panels, or a combination of both, and may be transparent or opaque. Unlike folding sunroofs, panoramic systems provide a rigid, secure panel and the option of transparency for viewing the open sky with the roof closed. First seen as factory options on premium European imports, panoramic sunroofs are being incorporated into a variety of low ro mid-priced cars such as the Pontiac G6, BMW Mini, Scion tC, Subaru Outback wagon, Malibu Maxx and even several minivans and SUV's including the Jeep Commander and Caddilac SRX. These continue to develop at the OEM level and have been spotted on many recent concept vehicles. Aftermarket versions are currently available only in powered versions. Retail installed prices range from $1200 to $1800.
---
BUYING A SUNROOF
Sunroofs are available in a wide variety of types, styles, sizes and colors. A host of sunroof accessories are also available, including storage bags, wind deflectors and sun shades. Choosing a sunroof, like choosing a new car, is a matter of personal tastes. Things to consider include: features, value, manual or electric operation, storage method of the sunroof panel, loss or gain in headroom, size of the sunroof opening, style, color, and warranty. Most important is professional installation.
Enjoying a beautiful day is one of the great pleasures of driving and there is no better way than an open air automobile. Factory or Aftermarket, open air satisfaction can be attained with a convertible, removable panel roof or sunroof. Just remember, you can have it your way. If a new car or truck doesn't have just what you want, ask your dealer to have a sunroof installed before you purchase the vehicle, or see your local Sunroof Dealer for a custom installation any time.
---
CONVERTIBLES • REMOVABLE PANEL • SUNROOFS

back to main page
Article copyright 1991-06 (last revised 6/06)